The Importance of Pet Grooming
Just like humans need constant care and maintenance of their appearance, dogs deserve the same kind of treatment. Pet grooming is an essential part of being a pet owner to keep your dog clean, happy, and healthy. From their snouts and torsos, all the way to their toes, they need to be regularly checked, then groomed using different tools.
Grooming your pet helps them look and feel their best while preventing any potential skin and body issues. Keeping a constant check on your dog and its body also helps pet owners identify any underlying health issues early on, which will help get them treated asap, to keep your pet's health at its optimum and extend their life.
Detection and Prevention
Pet owners can inspect and check for any body issues from head to toe regularly. If you also bring your pet to a pet grooming salon, professional groomers can also identify and look at any bumps, lumps, and other skin diseases. They can alert you of any potential health problems that come with it, so it can get diagnosed and treated as soon as possible. Alternatively, if you find anything unusual on any part of your pet's body, taking them to the vet to check will also prevent any possible issue from worsening.
Grooming Maintains Healthy Coat & Fur
All breeds, from short to long-haired types, no matter what fur or coat they have, can greatly benefit from pet grooming. Regular brushing helps keep their mane healthy and shiny. It also helps remove dirt, dandruff, and dead skin while preventing tangles and matting. Brushing also helps stimulate natural oil production to reduce dryness and promote glossy tresses. It is also an opportunity to give your dog a massage to improve circulation and check for any bumps or lumps. 

Make sure to brush your pet's fur regularly. Comb through their coat before and after baths, as well as in between those days before their next bath, to prevent tangles and matting.
Helps to Prevent Joint Pain
Aside from keeping their ears and eyes clean, your pet's nails are important to maintain at a short length. Keeping their nails trimmed helps prevent nail breakage and from getting physical issues such as ingrown nails or joint pains.
Encourages Optimistic Behaviour
As your pet maintains its dashing appearance while smelling pleasant, regular pet grooming also affects your dog's behaviour and mental health positively. It's another bonding experience with your pet. Make sure to keep the whole grooming routine positive through encouragement and praise, so each grooming session will be stress-free. Your pet will thank you in the long run.
Pet Grooming in Singapore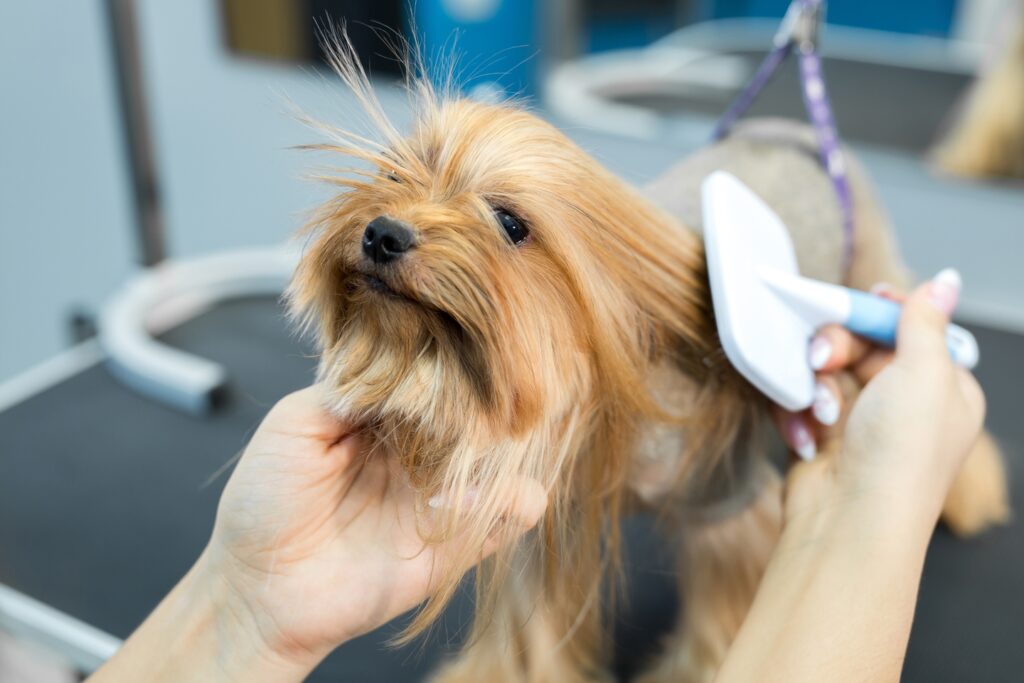 There are some tasks in pet grooming that not all pet owners are able to do. It can be due to a lack of time and skill, especially when it comes to cutting or shaving their hair. Not to worry, you can leave it to the professional groomers at various pet grooming salons open in Singapore.
Pet grooming services in Singapore are widely available and accessible. To help determine which pet grooming salon to choose for your pet, consider the following:
Services
Most grooming salons for pets in Singapore offer a wide range of services to accommodate your dog and other animals. The common grooming services include hair cut (that can be customised according to preference), bathing and drying, teeth brushing, nail cutting, ear cleaning, and eye cleaning. For more advanced grooming options, some even offer spa services like massage therapies, mud baths, and relaxing swimming therapies .

Accessibility
Pet grooming salons can be accessed anywhere, and chances are there's one available near your area. However, if you do not have the time to drop off your dog at a salon or if your dog gets anxious when going to salons, mobile pet grooming services are also an option. It's an ideal option for busy owners and for those who don't have one near their place. Mobile pet grooming services can be availed through booking appointments, then once confirmed, they will come to your home.

Budget
There are pet salons that can cater to any pet owner's budget. There are cheap to splurge-worthy salons that offer good services. Pet owners can choose only 1-2 services or get a grooming package that sometimes comes with complimentary skin, ear, and coat assessment.
Conclusion
Pet grooming is an essential part of keeping your pet clean and healthy. Regularly keeping your pet neat also affects their health positively. Grooming also helps pet owners check for any early potential health issue that can be addressed immediately before it worsens. Aside from that, grooming keeps their appearance neat, their smell pleasant, and most importantly, affects them positively. You can groom your pet yourself or get help from professionals by booking an appointment at pet grooming salons in Singapore.