Best Healthy Dog Treats You May Consider
Your best companion aka your best friend at home deserves to be spoiled! If you enjoy teaching your dog new tricks and new commands, you know that dog treats should always be available to reward them for doing a good job. Consider going for healthy dog treats that fit the balanced diet and gain more positive effects that your dog will benefit from in the long run.
Pet professionals recommend high-quality, healthy dog treats to avoid unbalanced nutrition that can also lead to obesity. In some cases (although not common), dogs may develop allergies or food sensitivities that can cause itchiness or upset stomachs. That is why choosing the best healthy dog treats is important and be sure to pay attention to the effects it may have on your dogs. However, with tons of treats and snacks available for dogs in the market, which one should you choose? While you can create your own healthy dog treats at home, there are healthy dog treats available that you can find in local store or online. 
We gathered the best healthy dog treats below!
Awesome Pawsome Treats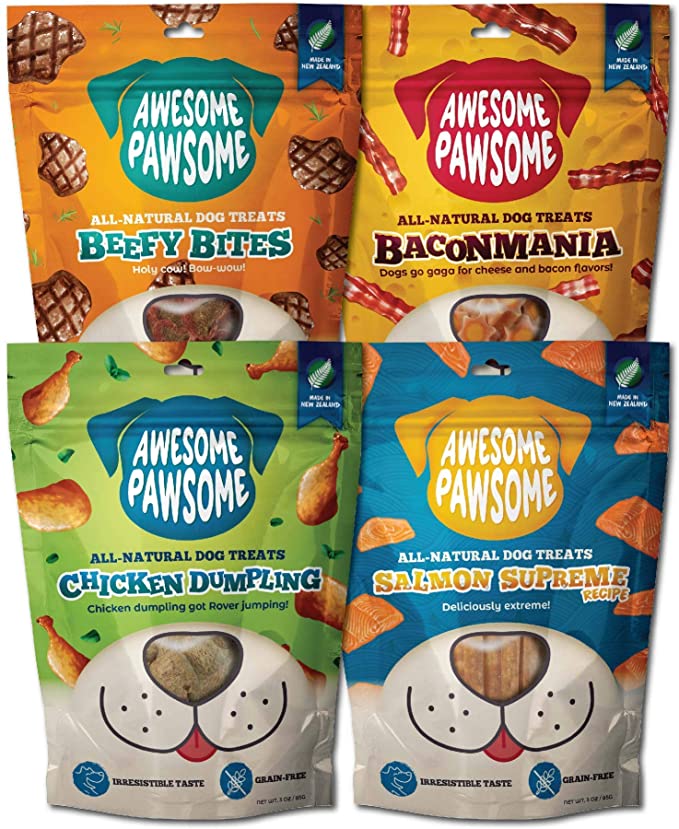 Rated 5.5 stars on Shopee, the healthy dog treats from Awesome Pawesome Treats are one of the best-selling treats for dogs in Singapore. Infused with superfoods and botanical extracts, the treats are made with all-natural ingredients inspired by our food – but catered for dogs! Choose from delicious flavours available – from meat, fish, fruits, vegetables, or peanut butter.
Price: S$4.75 per bag
Where to Buy: Shopee
Loyalty Pet Treats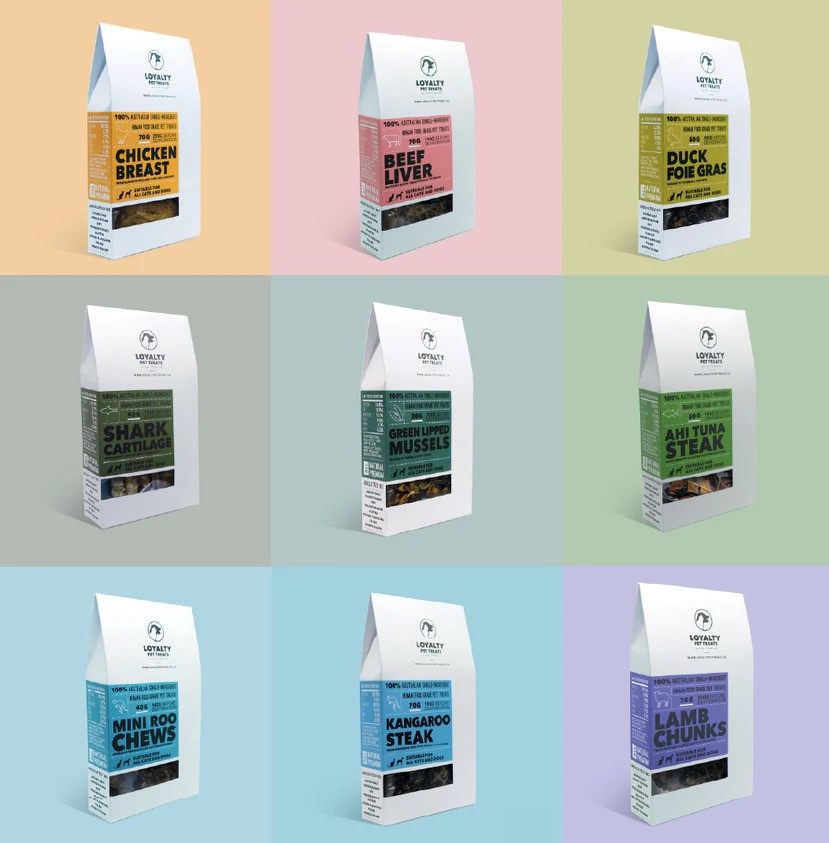 Made with no salt, sugar, colour, preservatives or fillers added, Loyalty Pet Treats' healthy dog treats use single ingredient for each pouch of treats. Using 100% human grade meat food, they are processed safely and patented from Australia without impurities and contaminants. Those looking for high-quality dehydrated dog treats will be greatly satisfied with Loyalty Pet Treats' products, since they offer a variety of flavours and sizes.
Price: Starts at S$14.80
Where to Buy: Loyalty & Co Official Website
Addiction Meaty Bites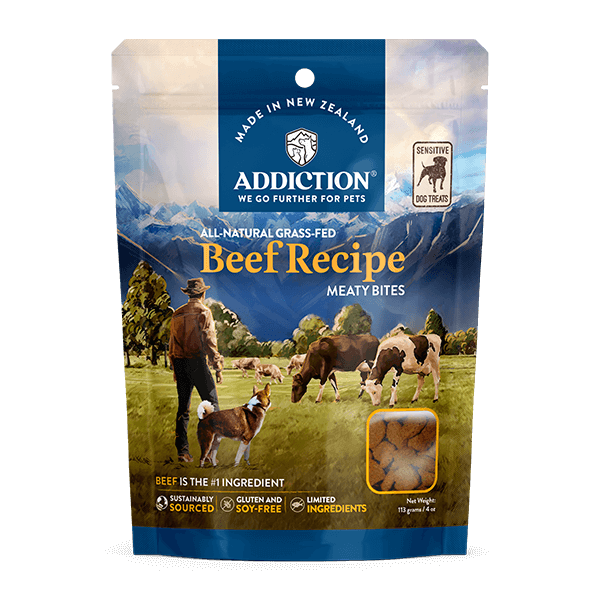 Another great option for healthy dog treats that your pooch will love is from Addiction Pet Foods! Each bite-sized treat is great for trainings that your dog will look forward to each time. As 'addicting' as these delicious treats are, make sure to give them to your dogs in moderation! Another thing to note is that these are made hypoallergenic and free from grains, so if you are looking for allergy-friendly treats, give this one a try.

Price: S$7.49
Where to Buy: Lazada
The Barkery Singapore
Looking for baked treats? The Barkery Singapore has got you covered! Their healthy dog treats are made with premium ingredients, without preservatives or additives. The local made store also offers dehydrated dog treats and milk chews.
Price: Starts at S$9.80
Where to Buy: The Barkery Singapore Official Website
Whimzees Dental Dog Treats
A dental stick a day, keeps the tartar and other bacteria away! The Whimzees dental dog treats are vegetable-based dental sticks that help remove tartar and plague with each chew. It's a highly-digestible chew that's free from GMO, Grains, and Corn.
Price: Starts at S$19.90
Where to Buy: KohePets Online Store
Zeal Free Range Air Dried Dog Treats

These dehydrated healthy dog treats from Zeal are also a must-have on this list. Its treats are made with free-range or wild-caught ingredients from New Zealand. With over 19 flavours to choose from, your dog will certainly be spoiled with delicious treats. Each bag of treats are free from colourings, artificial flavourings, additives, and preservatives.
Price: S$37 for a bundle of 3
Where to Buy: Good Dog People Online Store


Knibbles
On the other hand, if you're looking for local-made dehydrated healthy dog treats, Knibbles is a great option! Their products are produced in small batches and you'll be assured that you will receive high-quality treats per pack. Each dehydrated treats goes through a strict process of ozone-cleansing and air drying to avoid Salmonella and E.coli. Their treats mix meat with organic spices that your dog will enjoy.
Price: S$12
Where to Buy: Knibbles Online Store
Smartbones Twist Sticks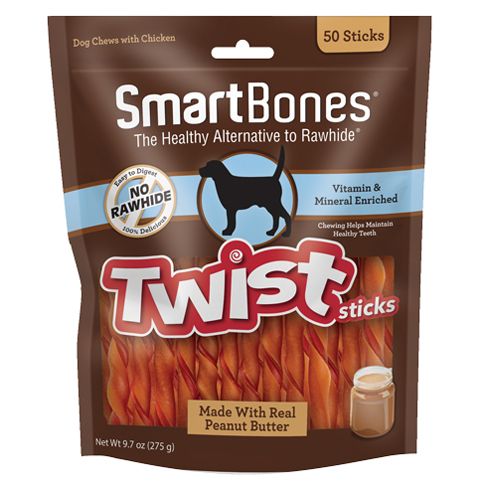 In case you missed it, rawhides are dangerous for dogs. A healthier, easier-to-digest option to replace rawhides is from Smartbones! It twists together real meat and vegetable without any rawhides. It's infused with vitamins and minerals while also helping clean your dog's teeth.
Price: S$17.12
Where to Buy: Lazada

Pawspiracy
From small training treats to air dried snacks, Pawspiracy has them all! Aside from dehydrated meat snacks, they also offer air dried seafood alternatives that are rich in omega-3 fatty acids. They also offer subscriptions where they'll send you a box filled with healthy dog treats and snacks.

Price: Starts at S$3 / Subscription boxes start at S$45
Where to Buy: Pawspiracy Official Website

Underdog Air-dried Dog Treats
Last on the list of best healthy dog treats is from Underdog! High in protein but low in fat, these dehydrated dog snacks and treats are perfect for any dog of any age. Rich in amino acids and proteins, they're made with hypoallergenic formula that's perfect for those dogs with food allergies.
Price: S$15
Where to Buy: Kohepets Online Store

What To Look When Buying Healthy Dog Treats?
The next time you buy dog treats, professional dog experts recommend check the labels that indicate complete information on what these treats contain. Here's a list of things to look out for when buying your next healthy dog treats:
High-quality Ingredients
To maintain a balanced nutrition for your dog, be on the lookout for healthy dog treats that are high in protein and low in fat. Make sure the ingredients are free from preservatives, additives, chemicals, colourants, and artificial flavourings. Usually, it's best to look for those with shorter ingredients list or single-ingredient that are usually freeze dried or dehydrated. Those usually indicate a lesser processing where most of the nutrients are retained in smaller chunks. Look for human-grade ingredients as well.
Size and texture
Depending on the age and size of your dogs, be sure to buy treats that your dog can easily chew and digest. You can also consider the texture, if they can be further broken down into smaller pieces for your dog to consume.
Formulation
Whether it comes in freeze-dried, dental sticks, or biscuits, make sure to choose the formulation that will suit your dog. You can have all three, but be sure to introduce them slowly as some dogs may not like all treats given to them.
Food Allergens
If your dog has specific food allergies, be sure to stir away from ingredients that will affect them. Try looking for hypoallergenic formulas as well.
Price
Pay attention to the package size, how long it'll last, and how many you can give your dog in a day.
Conclusion
If you want to continue spoiling your dog with treats, consider switching to healthier dog treat alternatives. In doing so, it will contribute to a balanced diet, and it prevents dogs from developing possible allergies. There are tons of healthy dog treats that you may purchase online that you can look into. When shopping online, keep in mind the things to look out for when buying dog treats or snacks. Look for treats that are high-quality, compatible with your dog's size and preferences, and fits the budget.